HNCL has demonstrated a high level of success in developing training programs in the fields of health, environment, and business management. Utilizing state-of-the-art software and multimedia technologies HNCL developed cost-effective for both public and private sectors. Our projects range from training on how to use a software application to how to dealing with stress. We developed tools for funeral home directors to produce videos to assist in healing. At the same time, we produced applications for vacation planning, health, and environmental education. Our experienced team, with the assistance of subject matter experts, transform complex subjects into simple effective messages.
---
Interactive Training Applications
HNCL has applied it's proven methodology to develop successful cost-effective interactive desktop and cloud-based training solutions. We work closely with our clients' project team and potential users to identify the objectives and goals to be achieved; then we apply scientific methods to define the process and break it down into well defined steps. To illustrate some examples of HNCL's capabilities, the following are some of our past projects: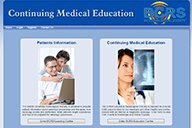 Radiology Continuing Medical Education – This program was developed for the British Columbia Radiological Society. It was built using HNCL Learning Center engine. It provides radiologist and technologist with courses in radiology and access to actual case studies using state of the art web based DICOM viewer. The program has a comprehensive course administration module to allow system administrator adding courses, quizzes, issue certificates, and monitor learning progress.
Fuel Contractor Manual and Oil Spill Response – This program was developed for the Petroleum Product Division of the Department of Supply and Services Canada in the Northwest Territories. This program is used to provide training to operators of fuel tank farms across the Northwest Territories. The Learning Management System included in the program allows for monitoring learning progress, test learners knowledge, and issue certificates.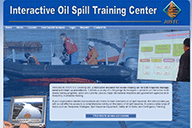 Basics of Oil Spill Response
-The program provides a first level training, it covers all aspects required to response to oil spills. The topics covered in the program follow the basic material that is covered by the International Maritime Organization Oil Spill Preparedness and Response Training Course. The program is currently used by major international oil companies, coast guards, shipping and mining companies, and government agencies. It is available as an Internet, Intranet, and as a desktop application. A number of clients have customized the program to cover their working environment and their specific oil spill contingency plans.
Visit our E-Learning portal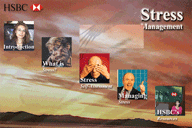 Stress Management - Stress management was developed for HSBC. The instructional design philosophy of the Stress Management Interactive Training is based on providing the users with knowledge to understand the impact of stress on their lives, then challenge them through simple self-assessment tests to acknowledge the fact that most of us face stress in our daily life. Once they acknowledge this fact, the user is more willing to listen and learn about how to manage stress.. We produced the "Stress Management Interactive Training" in a user friendly, straightforward, light hearted manner to reflect two simple messages (I) stress may have a positive or negative impact, and (2) our attitude and initiatives that can influence the outcome of any stressful situation. HNCL has also developed another training program for HSBC "Managing Change".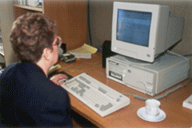 Management Software - HNCL has developed four training applications for the Loewen Group, one of the largest funeral homes in North America, these are Financial Management (FDMS), Business Management (Business Works), Payroll Accounting Software, and Cemetery Management (HMIS). In addition the company has develop a basic training on how to use computer; these programs were distrusted to more than 1200 funeral homes. In addition to the development of the programs, HNCL team was responsible for technical support for these homes. This was a major task to train funeral home directors with very little knowledge about the use of computers or any software applications.